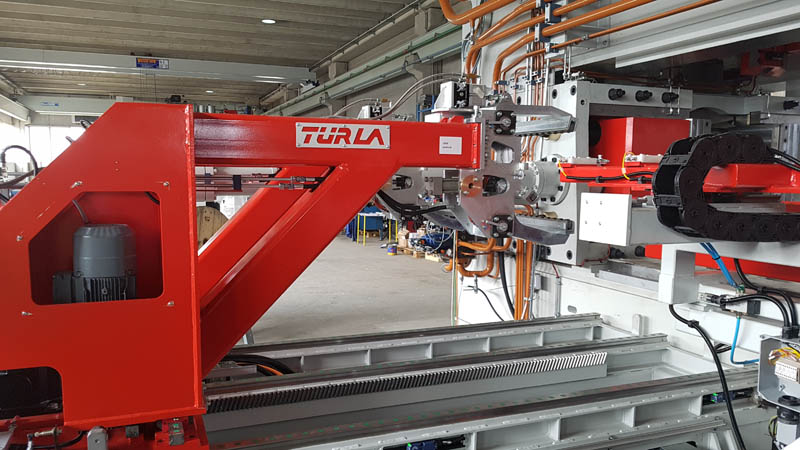 From June 17th to July 7th 2019, Turla organized its Press Open Week 2019 at its facilities in Paderno Franciacorta, Italy. The event provided the company with an opportunity to demonstrate its latest extrusion technologies, as well as introduce customers to its expanded facilities. Every day during the Press Open Week, Turla was visited by one to three delegations, which were able to witness dry runs of the equipment and exchange ideas about the extrusion market.
Extrusion Presses & Handling Systems: The highlight of the event was Turla's extrusion presses with their current level of technology, including the ECO+LOGIC 2.0 hydraulic system (Figure 1). This technology, which was launched by Turla in 2013, uses inner gear pumps and specially designed hydraulic circuits to achieve big advantages in low energy consumption for produced ton and press uptime. Since its introduction, it has become one of the most popular technologies in the aluminum extrusion world. In particular, Turla introduced two 50 MN, 12 inch presses that had been recently manufactured for Spanish extruders (Figure 2). The lines were manufactured to be able to produce heavy profiles for industrial and railway applications, as well as highly precise profiles for the automotive sec-tor. They have been specially designed to be able to not only produce large profiles, but to be able to extrude profiles with small wall thicknesses that need to meet tight tolerances and stringent mechanical properties.
Dry Runs: While technicians can often visit a customer site in order to witness Turla presses operating in a real-world manufacturing setting, the Press Open Week provides the opportunity for them to gain a deeper understanding of the intricate details behind how the equipment works—including mechanical, electrical, and software systems. The event is able to present dry testing of machines, enabling delegates to observe.
Expansion: Visitors to the Press Open Week were able to see Turla's expanded facilities, including a new 8,000 sq m (~80,000 sq ft) building that will be exclusively dedicated to the assembly of presses bigger than 50 MN. "This was a huge achievement for the company," confirmed David. "In the last ten years, we have continuously increased the number and the sizes of our presses. We understood that if we wanted to definitely be a big player in the field of large presses, we had to adjust our facilities to the particular needs of this range of equipment."